Last Updated on by Mitch Rezman
As our commitment to encourage your return, the rewards program adds 1 Point – to your account for every $1.00 you spend.
First orders receive 100 points worth $5.00
Spend $100 and get $5.00 to redeem on the cart page.
Points are added to your account after the order ships
You have the choice of redeeming your points on each visit or accumulating them for a larger purchase like a birdcage.
If you can't find something you need please click here to ask
Here is our shopping category quick start guide ~ everything we sell is explained on one page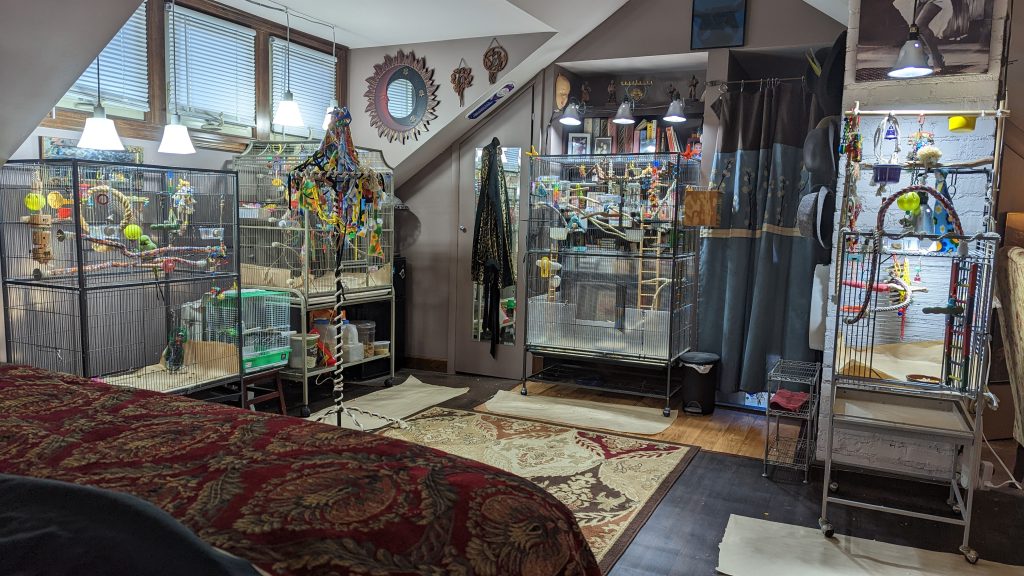 Our own impersonation of Busch Gardens or Jurassic Park
Who doesn't crave 900 watts of full spectrum lighting automatically turning on @ 7:30 AM CST DST
I've embraced sleep masks, audio has become a slippery slope
Windy City Parrot's flock census as of 11/26/2022
Keto – African ringneck ~M

Chili ~ Blue quaker ~ M

Barney ~ Grey teil ~ M

Jam ~ Yellow budgie ~ F

Lucky ~ Green budgie ~ F

Waffles ~ Blue budgie (yellow on head) ~ M

Chicken ~ Blue budgie ~ F

Priscilla ~ Blue budgie ~ M (not a typo)

Smoke ~ Purple budgie ~ F

Bagel ~ Blue budgie ~ F

No name budgie baby 1

No name budgie baby 2 

No name budgie baby 3