-7%
With this product, you will earn
70 Points
in My Birds Rewards
Bird Warming Heated Thermo Perch for Medium Sized Birds
2 in stock
This product is available for $61.60 a 12% discount, if it is your first purchase, please register/login here
Description
Bird Warming Heated Thermo Perch for Medium-Sized Birds like African Greys, Amazons

Protect exotic birds from the harmful effects of air conditioning and cold drafts
Thermostatically controlled to an optimum body temperature.
Made of sturdy scratch and bite-resistant non-toxic plastic.

Uses harmless, 12-volt, low-voltage electricity to heat the perch.

A safe, consistent source of warmth, stabilizes the bird's environment.

The steel wire-wrapped cord is safely positioned away from the cage.

Reduces avian stress.

Attaches easily to wire cages.

Irregular shape reduces foot cramping and pressure sores.

Available in three sizes.

K&H Snuggle Up Bird Warmer and Thermo-Perch ~ Video
Keep your bird warm in the winter (even in summer air-conditioning) with this bird-safe heated Thermo perch. The Thermo perch maintains an optimal temperature of 102 to 107° which radiates to help warm the entire bird.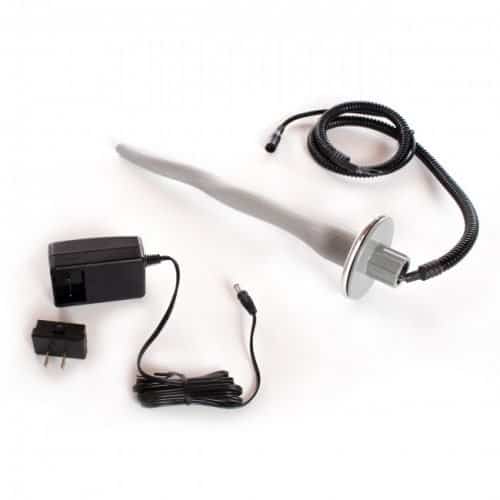 It uses very little energy by operating at only 12 V and there's nothing to adjust making operation quite simple. The steel-wrapped cord is outside of the cage making it very difficult for the bird to get to and it is UL listed.
Our bird loved it no matter where he was and he had four cages with Thermo perches installed They are really durable in having an irregular shape much like a natural tree branch which makes for good foot health and reduces the chances of sores or "bumblefoot".
Any bird will enjoy this birdcage accessory for years. 
Clean with soap and water or Poop-Off, just don't immerse the unit in water. 
Caution:

Please do not wrap the Thermo-Perch with any material or Vet Wrapping. It is not designed to be wrapped and may cause a malfunction in the perch.