-14%
With this product, you will earn
6 Points
in My Birds Rewards
Higgins Versele-Laga Sunburst Boca Nuts Shelled Nuts and Fruit Parrot Treats 5 oz
5 in stock
This product is available for $5.28 a 12% discount, if it is your first purchase, please register/login here
Description
Higgins Sunburst Boca Nuts Shelled Nuts & Fruit Parrot Treats 5 oz Factory sealed bag
Sunburst Gourmet Natural treats for birds are an assortment of fun, healthy natural snack mixes that supplement your pets regular diet.
Boca Nuts for Parrots and Macaws is a blend of assorted fancy shelled nuts with premium dried fruits. Shelled almonds, cashews, walnuts to name a few all along with dried papaya, bananas, coconut and more all add variety to your pet birds daily diet.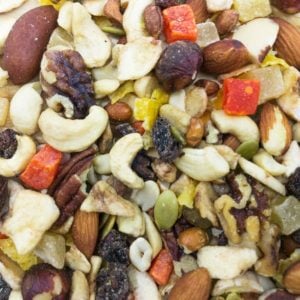 Feeding instructions: Sunburst Treats can be fed in a separate treat dish or mixed with your pets daily food. Discard any unused portions before feeding again. Treats are not to exceed 20% of your pet birds total daily food consumption. This helps to ensure that your pet is receiving the required nutrients from its regular, fortified food.
We recommend one of Higgins premium fortified diets like Vita Seed Natural, InTune Natural, and Sunburst Gourmet Foods to name a few. Be sure to try the other Sunburst Gourmet Natural Treat Flavors!
Ingredients: Shelled Peanuts, Shelled Almonds, Bananas, Shelled Pistachios, Pumpkin Seeds, Shelled Cashews, Raisins, Flaked Corn, Papaya, Pineapple, Shelled Walnuts, Shelled Brazil Nuts, Shelled Hazelnuts, Shelled Pecans.
Guaranteed Analysis:
Crude Protein Not Less Than 14%
Crude Fat Not Less Than 30%
Crude Fiber Not More Than 15%
Moisture Minimum 6.5%
Made in the USA. 5 oz bag
From Higgins: We buy peanuts only from established farmers that are required to test for aflatoxins and molds before we purchase our higher grade peanuts in-shell. We also perform our own periodic tastings in addition to this.
Bird food handling tip: For economy & freshness we recommend buying enough seed to last no more than 3 months. It's best to break down factory bags into smaller double Zip Lock freezer bags (Using a bag-within-a-bag approach helps reduce the chance of freezer burn) & store in the freezer