-17%
With this product, you will earn
5 Points
in My Birds Rewards
Higgins Versele-Laga Sunburst Fruit To Nuts Treat For Birds Large 5 oz
6 in stock
This product is available for $4.40 a 12% discount, if it is your first purchase, please register/login here
Description
Higgins Sunburst Large Fruit To Nuts Treat For Birds 5 oz (141.75 g)
So Good You'll Want To Eat It (But Save Some For Your Bird)!
Recommended For medium to large Hookbills
Fruit To Nuts Premium Avian Treats. Fruits, Nuts & Veggies, Oh My! It's a bird "Trail Mix"! Treat Your parrot!
Higgins Snack Attack is the healthy and fun treat your pet bird has been craving. We've packed the best things from nature into this special package! No fillers or phony stuff. So good you'll want to try it, but don't forget to share with your feathered friends.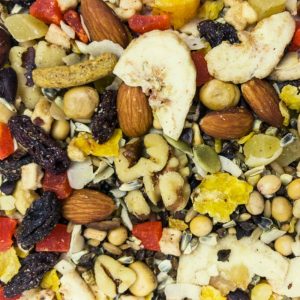 Sunburst Gourmet Natural Treats for birds is an assortment of fun healthy natural snack mixes that supplement your pets regular diet. Fruit To Nuts gives Conures, Parrots and macaws a blend of dried fruits vegetables and assorted nuts that create a premium bird "Trail mix" Almonds, banana, raisins, green peas and more all and variety to your pet birds daily diet.
It's everything your bird ever wanted in a treat mix from fruits to nuts (hey, let's not forget the veggies too!) You'll instantly see your bird's enjoyment and satisfaction.
Ingredients: Banana Chips, Papaya, Pineapple, Raisins, Buckwheat, Oat Groats, Safflower, Soybeans, Pistachios, Flake Corn, Apples, Walnuts, Almonds, Cashews, Pine nuts, Coconut, Pepitas, Green peas, Dehydrated Black Beans, Hazelnuts Mmmmmmmm.
Feeding Instructions: Sunburst Treats can be fed in a separate treat dish or mixed with your pets daily food.
Discard any unused portion before feeding again. Feed treats to not exceed 20% of your pet birds total daily food consumption. This helps to ensure that your pet is receiving the required nutrients from its regular fortified food. We recommend one of Higgins premium fortified diets like InTune, Sunburst Gourmet Foods, Safflower Gold, Mayan Harvest, and Vita Seeds.
Guaranteed Analysis:
Crude Protein Not Less Than 12.0%
Crude Fat Not Less Than 22.0%
Crude Fiber (min) 7.0%
Moisture Maximum 8.5%