You cannot add "Volkman Avian Science Super Canary Food 4 Lb" to the cart because the product is out of stock.
-40%
With this product, you will earn
6 Points
in My Birds Rewards
Living World Circus Games Toy for Small Birds
8 in stock
Description
With Living World Circus Toys, pet birds can dream about joining the circus.
Our complete line offers stimulating entertainment designed to inspire your feathered companion to exercise, interact and play, bringing relief from the daily routine of cage life.
This particular toy features a high-wire walker holding a balancing bar with hanging bells at each end. It has a counterweight ball at the bottom and a mirror at the back of the figure's head. There's also a hole allowing easy installation on a perch.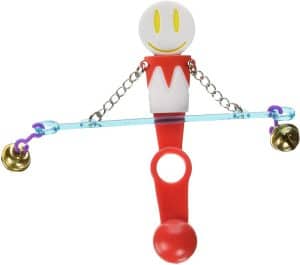 Suitable for budgies, canaries, and finches.
Key Features:
Circus-themed bird toy

Fun and stimulating diversion

Inspires birds to interact, exercise and play

Helps relieve daily cage routine

White high-wire walker holding a balancing bar with hanging bells at each end

Red plastic counterweight ball at the bottom and a mirror at the back of the figure's head

Includes a hole for easy installation on a perch