You cannot add "Comfy Rope Booda Perch Large 36"" to the cart because the product is out of stock.
-8%
With this product, you will earn
575 Points
in My Birds Rewards
Power Tower Bird Stand Midnight Blue w 1 inch Perch
$625.00
8 in stock
Earn 100 Points ($5 Value) for your 1st Order ~ $49 Ships Free ~ $7 Ships Small and Redeem Rewards on Every Visit ~ $1=1 Point ~ Worth 5% off ~ Every day!
Description
24 In (61 cm) Long x 24 In (61 cm) Wide by 52 In (1.3 m) high. Toy holder adds 18 Inches (46 cm) to overall height
Traveler series with the lift off top easily converting to a portable table-top stand.
Green Dessert Stone Black White
Slide out ABS plastic tray for easy cleaning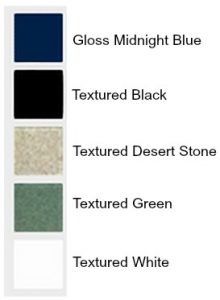 2 dragonwood perches (sized for your bird)

1 ladder between the 2 perches

2 food rings and 2 feeder cups

2 EZ Clean plastic refuse trays

Toy holder

Furniture quality wheels

Constructed of Bird-safe wrought iron

Durable powder-coating

Assembly time approximately 45 minutes

Made in USA

Lifetime warranty on workmanship

5 year limited warranty on powder paint.
 Our Stands are custom made to the color of your choice and manufactured by our staff here in the USA. Please allow up to 3 weeks for your item to be shipped. If a longer lead time is required, Customer Service will contact you directly. Thank you for choosing Mango Pet Products, we appreciate your business!
Related products
Earn 14 Points in My Birds Rewards

Earn 45 Points in My Birds Rewards

Earn 135 Points in My Birds Rewards