-11%
With this product, you will earn
125 Points
in My Birds Rewards
Zupreem Fruit Blend Large Parrot Avian Maintenance 17.5 lb (7.94 kg)
3 in stock
This product is available for $110.00 a 12% discount, if it is your first purchase, please register/login here
Description
Zupreem Fruit Blend Large Parrot Avian Maintenance 17.5 lb (7.94 kg)
ZuPreem AvianMaintenance FruitBlend Flavor Diets are formulated to meet all the accepted nutrient requirements for the maintenance of various types of adult psittacines (hookbills) and passerines (softbills). The diets are nutritionally balanced and require no supplements. With controlled iron levels (less than 80 ppm), these diets may be beneficial for species predisposed to iron storage disease.
More bananas, oranges, apples and grapes ground from fresh fruit for a more fruity flavor New and improved flavors increase palatability so even the most finicky birds find these diets irresistible.
Fruit shapes and colors* Five different nuggets in the shapes and colors of apples, bananas, oranges, grapes, and melons provide a variety of shapes and colors.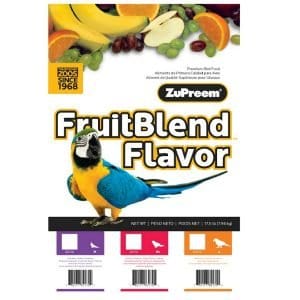 Complete and balanced nutrition Nutritionally balanced and fortified with essential vitamins and minerals birds need for good health.
Extrusion cooking enhances carbohydrate bioavailability More digestible than cold-pressed pelleted diets or seed mixtures, and offer maximum digestibility and nutrient absorption. Provide consistent quality nutrition with no vitamin or mineral supplements required or recommended.
Naturally preserved with Vitamins E and C Longer shelf life than seeds and most pelleted foods, and contain no artificial preservatives.
Stringent quality control standards – Manufactured in an American Institute of Baking certified food-grade plant Fixed formulations with high-quality fresh ingredients provide consistent dependable nutrition in every nugget. Controlled iron content (less than 80 ppm) Species predisposed to iron-storage disease may benefit from this diet.
Ingredients: Ground corn, Soybean meal, Ground wheat, Vegetable oil, Wheat germ meal, Sucrose, Dicalcium phosphate, Calcium carbonate, Ground fruit (bananas, oranges, apples and grapes), Iodized salt, DL-methionine, Choline Chloride, Ascorbic acid (source of Vitamin C), Natural mixed tocopherols, Rosemary extract, Citric acid, Natural and artificial colors, Artificial flavors, Manganous oxide, Zinc oxide, Copper sulfate, Calcium Iodate, Sodium Selenite,Vitamin A supplement, Vitamin D3 supplement, Vitamin E supplement, Vitamin K supplement, Niacin, Calcium Pantothenate, Pyridoxine Hydrochloride, Thiamine, Riboflavin, Folic acid, Biotin, Vitamin B12 supplement.
Guaranteed Analysis:
Crude Protein Not less than 14.0%

Crude Fat Not less than 4.0%

Crude Fiber Not greater than 2.5%

Moisture Not greater than 10.0%
Storage Instructions: Store in a cool dry place, free of pests and insects. Gently push air from bag and reseal immediately after use.