Last Updated on by Mitch Rezman
Calling all veterinarians and PhD's
to answer this one simple question
(none of you return my emails or respond to my Facebook questions)
How does artificial light really aid enable vitamin D/D3 syntheses in birds?
Have there been any studies done where a bird known to have a vitamin D3 deficiency by blood testing was exposed to 12 hours of light every day for a certain period of time and then tested to see if vitamin D3 increased with no change in a bird's diet?
I'm as confused as my readers. One just asked:
"Do you have a source for light not affecting D3 production in birds? This seems to be the only webpage making that claim"
In my post Birds and full spectrum lighting. We got it wrong 8/6/15. My own confusion about whether the amount of light has or has no bearing on Vitamin D synthesis in birds is very obvious.
10,000 of anything vs 700 of anything having no impact on any biological or mechanical process is a hard theory to accept – please read on.
I talk a lot about the inverse square law of light which just seem to throw a curveball (Go Cubs!) to, well everyone.
So let me put this law of physics in a more meaningful dimension, an image.
This is the back panel of an EXO TERRA bulb. These bulbs were designed with reptiles in mind.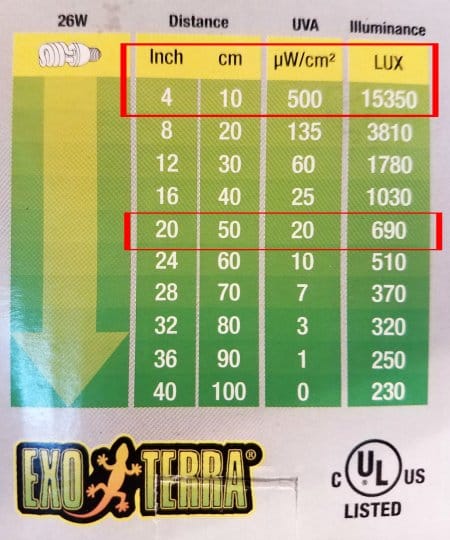 Typically they are placed about 6 inches above perhaps a bearded dragon who sits on a rock without moving for six hours a day.
Even the most sedimentary of birds moves up and down its cage throughout the day seeking food, water and engaging with various toys.
As you can see this is a 15350 lumen bulb. Let's place that bulb 6 inches over the cage and assume the bird spends a lot of time on it sleeping perch (hopefully a soft rope perch about a foot from the top of the cage.
That means the bird is receiving approximately 700 lumens out of the 15350 lumens the bulb is emitting
As a counterpoint, direct outside daylight in the summertime averages somewhere in the neighbourhood of 10,000 foot candles. This is equal to 10,000 lumens per square foot.
Which begs the question. When all the "experts" are talking about using artificial light to help process the production of vitamin D in birds – what is the minimum amount of lumens needed?
Is 700 lumens enough to help the Vitamin D synthesization process? Is UVA and UVB necessary? Has anyone tested for this?
Now that we've established how little measurable light the bird is actually receiving whilst being exposed to indoor artificial light, let's explore the mechanics of vitamin D3 synthesis in birds.
Unlike reptiles, birds have feathers covering their entire body. Even a small bird like a budgie can have 3000 to 5000 feathers.
For the bird to hopefully get the biological benefit of vitamin D3 synthesis they must access the uropygial gland (locted above the base of the tail) and put some preening oil on their beak.
How much can that be .1 milliliter? (there's 29.57 milliliters in an ounce) You never see a "gob".
Now they apply this oil to their feathers whilst preening. The oil will transfer to the bird skin by whatever feathers touch the bird's skin.
So what all the "experts" are saying = here's one example
Dr. Karen Becker states:
This oil contains a compound that produces vitamin D when exposed to the sun's ultraviolet rays. So as your bird grooms under an ultraviolet light source, it's actually mixing up a healthy batch of vitamin D on its feathers.
As your bird re-grooms his feathers coated in oil, he ingests vitamin D. The vitamin D in his system will then be converted by his kidneys and liver to active vitamin D3 (cholecalciferol).
Feathers? So all these feathers are producing Vitamin D – with only 700 lumens of light?
From Wikipedia we learn:
The (uropygial) gland is invariably present at embryonic stages, whereas it can be vestigial in adults of certain orders, families, genera and species.
Some or all species in at least nine families of birds lack a uropygial gland, mostly the ones unable to fly or the ones that produce powder down for feather maintenance.
These include kiwis (Apterygidae), emu (Dromaiidae), ostriches (Struthionidae), rheas (Rheidae), cassowaries (Casuariidae), mesites (Mesitornithidae), bustards (Otididae), pigeons and doves (Columbidae), amazon parrots (Psittacidae), frogmouths (Podargidae), and woodpeckers (Picidae).
These birds typically find other means to stay clean and dry, such as taking a dust bath.

Researchers have been unable to correlate the presence or absence of the uropygial gland with factors such as distribution, climate, ecology, or flightlessness. Read more:
End Wikipedia – Before we go further,
What if I'm right about this vitamin D synthesization issue, why even bother with artificial light?
"We want a light source close to the cage top on a timer set for 12/12 hours on and off (not respecting daylight savings time) signaling to the bird the start of day and end of the day.
This simple hack has been known to kill behavioral triggers like plucking, screaming, biting, and other negative hormonal activity
Now let's recap:
Re: So as your bird grooms under an ultraviolet light source, it's actually mixing up a healthy batch of vitamin D on its feathers.
The question here is Dr. Becker's description of how vitamin D is transferred from the feathers without touching the skin.
BTW – Vitamin D, for example, plays a vital role in the regulation of calcium and phosphorus metabolism, which are key to optimizing a bird's skeletal system.
Please, no really PLEASE can someone answer with precision, "can 700 lumens of artificial light assist with the avian vitamin D/D3 synthesis?
Written by Mitch Rezman
Approved by Catherine Tobsing.
Your zygodactyl footnote
The first veterinarian or scientist to post a data-driven answer to this question will win $100 worth of amazing bird stuff for the bird rescue of his or her choosing.
(opinions don't count)
About Author