Last Updated on by Mitch Rezman
For those not binge-watching Windy City Parrot TV, we rescued a 17-year-old male African ringneck last week.
This is Labor Day weekend 2018.
We will be leaving tomorrow Friday afternoon and returning Monday afternoon or evening.
The birds will be in the car with us for 2 to 3 hours – each way.
If the temperature is anything over 73 or 74° one of us stays in the car with open windows while the other one does the shopping and errands.
Peaches our Senegal has been making this trek ever since she's been in the family.
Her patience wanes at about 2 to 2 1/2 hours when she becomes a bit of a whiny Senegal.
Keto was quite chatty during our 8 hour drive from Columbus but it was fun and far more cheerful than anything on the news.
We are not leaving for about 20 hours and we didn't want to find out that getting Keto in the cage would be problematic.
This video is about our first practice run.
I like to ask people if they really want to be chasing their bird under the couch knowing that a category two hurricane will be making land in a couple of hours.
Although you don't see it until the end of the video, we are keeping the travel cage(s) on the coffee table in front of his cage so it becomes a little more friendly.
Knowing Keto responds positively to his new favorite bell toy that Catherine re-made him yesterday she was able to use it as a positive motivator for getting Keto to perform actions she required.
We've been told by people who knew Keto and her former companion that he was a bit hand shy.
Translation: watch for the bite.
I've stupidly allowed him to bite me twice but I have had him step up to my hand from the floor after a warning peck but then he fluttered away before reaching his cage.
Editor's note: we keep our birds fully flighted.
This is off-the-cuff training using a shiny bell toy as a carrot and stick motivator.
The ringneck is so enchanted with the toy that he neglects the hand that is shaking the bird toy.
Catherine effectively uses the bell toy and lots of warm words of encouragement with a high voice to encourage Keto to the travel cage entrance.
Using the bell toy once again to use his actions for leaving what is now his third birdcage in 8 days and go back to his home birdcage.
Her actions were done with confidence and ended with a positive outcome.
I hear too often that people want to let their birds "settle in" for a couple of weeks before working with them.
If you know birds, that "settle in" is not part of the birds vocabulary.
Birds have perches in their cages not recliners.
Their neurons move three times faster than those of mammals.
And most have a standing heart rate of about 200 bpm.
Keto has been getting something new in his cage almost every day, be it a new food, treat, bird toy or accessory.
All the changes are done in the morning.
It is important not to add new items to a cage in the evening because as the sun sets scary shadows may fall leading to phobic reactions.
To that point when traveling in a terrestrial vehicle with birds it's best to cover them once the sun starts setting and vehicle headlights become more noticeable.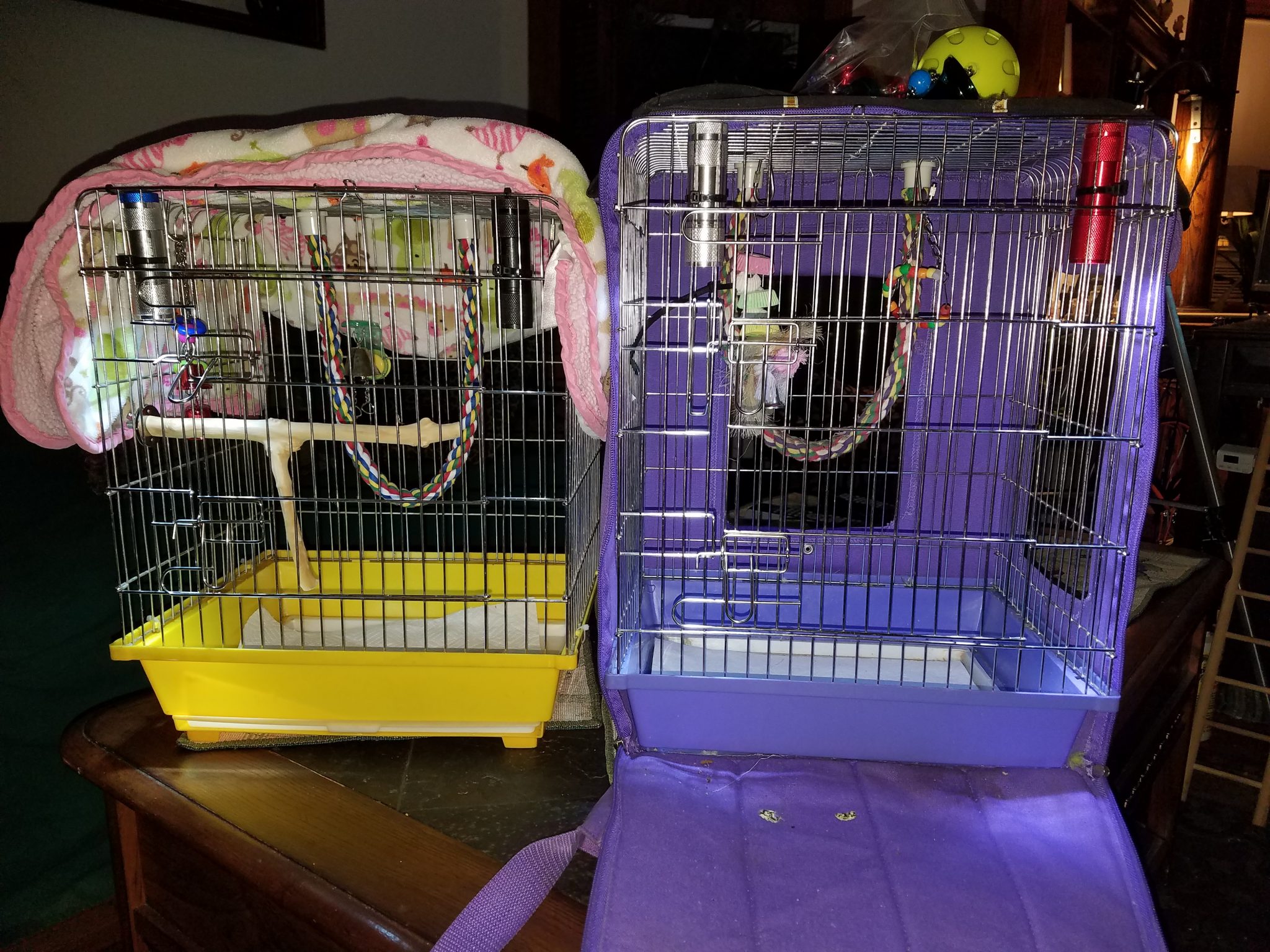 (sorry – these cages have been discontinued)
The constant flickering of headlights can easily stress a bird out.
We ensure Peaches and Keto are not in total darkness by installing two bright LED flashlights in each cage with a single cable tie per light.
Written by Mitch Rezman
Approved by Catherine Tobsing
About Author