Last Updated on by Catherine Tobsing
Yesterday (Friday 3/20/2020) Catherine answered a call from "Wanda".
2-1/2 years ago we rescued Keto which was an 800-mile adventure.
Last month we rescued Chili from Crown Pt IN, 6 miles away.
Wanda had been hired to clear an abandoned home.
Not only were the contents left behind, but 3 dogs and a cockatiel awaited new destinies.
She was to be done clearing the small single family home by Monday, and had rehomed 2 of 3 dogs but the tiel needed a forever home. 

Someone was coming for the third dog on Saturday.
The bird was 3 miles away in our hometown of Lowell, Indiana.
I grabbed 1 of our stainless travel cages and a big birdie (baby) blanket.
After working through the whole wrong address thing I saw Wanda waiting at the end of the driveway in front of the yellow-sided house, which was dark.
Editors note: I don't know if the house had heat. Endnote
I asked to be invited in for cage migration in an enclosed area – we like bathrooms because they are small).
Wanda replied: "No, the stench is too great."
I asked: Can I give you my cage and have you do the transfer?"
"No, I can't handle the bird, I'll bring him out" Wanda offered.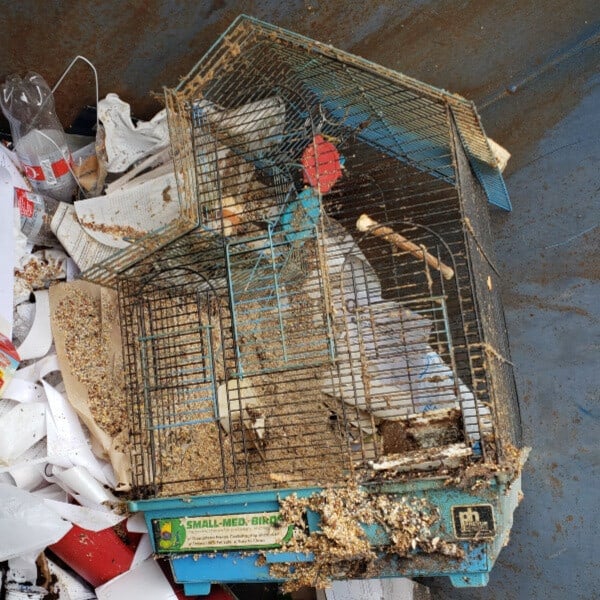 The picture (above) was the cage I was handed, with "Barney" I learned.
Wanda called out as I placed the cage in our Escape (lined with a tarp for moments like these) "Take care of him!"
My retort was "He just won the lottery, take care and stay healthy".
Barney and I were home 8 minutes later.
Note: Because I'm running late on some other projects, I unapologetically am offering unedited videos.
Travel cage from car to new forever (home) cage migration (all our birds have at least 3 cages each.)
No selfie yet with each of us because we're letting him slowly adjust.
After migration to the travel carrier, coming out of
the car, one more migration into his forever home
When discussing the possibility of rehoming, we let 2 factors lead us to keep him.
File under "Here's your sign." (Bill Engvall)
1) The bird was living in our neck of the woods.
2) Barney was Catherine's father's name (now deceased).
Always Trust Karma Fast Forward ~ September 2022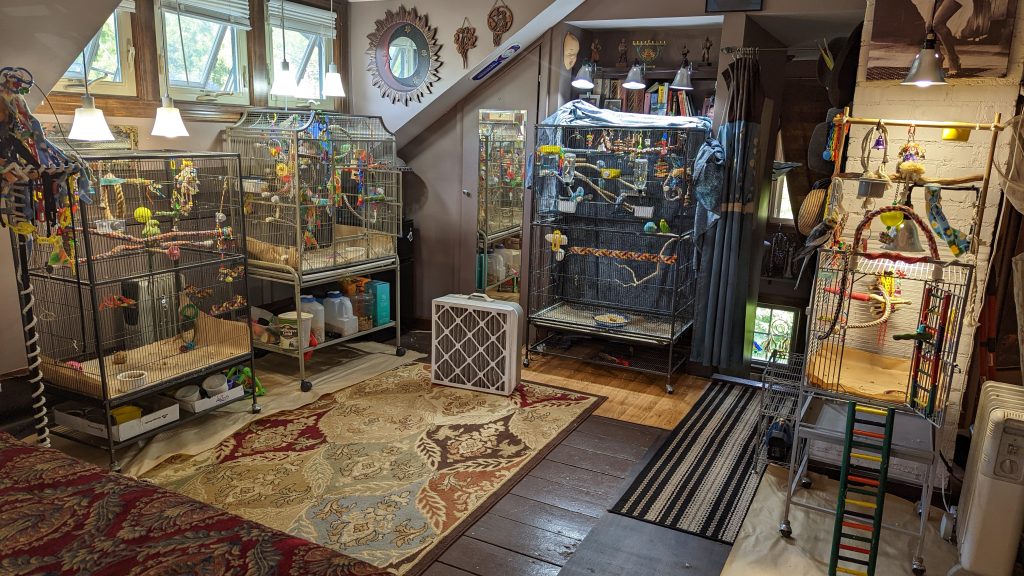 Room with 4 birdcages housing from left-to-right African ringneck –
Quaker- 8 budgies – grey cockatiel "Barney", his spiritually given name
(not in those words) per the bird's history provided by Wanda.
About Author