Last Updated on by Mitch Rezman
Bill P. asks:
I have questions about the 72-hour circadian reset technique.
1. During the day portion of the 72 hour period would there be a problem with taking the bird, Blue and Gold Macaw out of her cage for food, exercise, and to interact with the family.
2. Can you provide clinical references pertaining to this technique?
We are looking for a way to deal with egg-laying and hormonal behavior next Spring.
Thanks for your help.
No Bill,
​
​The bird stays in the cage for the entire 72 hours. 
​
​If you use a cover it goes over the light.
​
​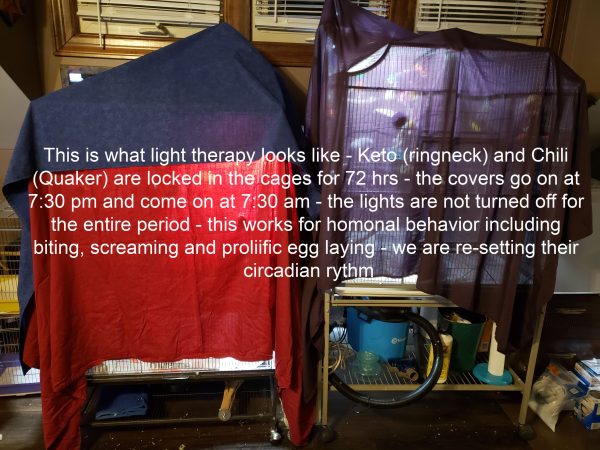 ​
​I'll start with Dr. Gregory Harrison, the founder of Harrison's bird foods​. 
​
​He taught us the technique and you can read about it on his website.
​
​https://www.harrisonsbirdfoods.com/chronic-egg-laying-what-you-can-do/
​
​You can also reach out to the folks at HARI (Hagen Avicultural Institute)
​They have kept 250 pairs of domestic and wild-caught parrots for 30 years always testing for the efficacy of Hagen bird food.
​
​Our friend Mark Hagen philanthropically provides funds to https://ovc.uoguelph.ca/ who in return works closely with HARI.
​
​Manufacturers do not share trade secrets but I can tell you unequivocally that light therapy can replace Haldol and Lupron but not increase Vitamin D production.
​
​Lastly here's our story of prolific egg production 
​
​Stay safe.
​
​Best.
​
​MitchR.
Thank you for replying, your time and the information. I'm not sure how our baby girl will react to 3 days in her cage.
She only spends 12 hours in it at night. Both of us are retired, so she is not caged during the day. I guess we start getting her used to the idea before we have to do this.
Bill P
What if the bird is sick and needs to be isolated, Bill?

​​Would you wait for treatment?
​
​This is the same scenario.

​​The more change birds endure, the more readily they accept change.
​
​It's important that we control our animals and not allow them to control us.
​
​Birds are far more adaptable than most humans give them credit  ~ you might end up with a whiney bird.

No harm, no fowl.
Their neurons process thought at 3 times the rate of mammals including humans.
​
​I'm 68 and we have 3 birds in the same scenario when they are upstairs with me.
​
​When they go downstairs in our workspace they are locked up for 6 hours but love the socialization with customers and delivery drivers.

​​Don't know if you're on Facebook but this may be of interest https://www.facebook.com/hagenbirdcare/photos/gm.3329145573817919/3124092521005672/?type=3&theater
​
​
All the best
​
​MitchR.
You are right. She IS in control, and I am her staff. Three days is better than three weeks sitting on that stupid egg.

Bill.
Get rid of the egg Bill, we want to remove all brooding reminders.
​
​Have a good weekend
​
​Best
MitchR
About Author