Last Updated on by Catherine Tobsing
Catherine wanted me to make it clear that we feel it's okay if you want to take the time and energy to supplement a commercial bird food diet with a fresh chop or some sort of salad 90% of which won't get eaten nor stay fresh for long – Have at it. Catherine does it every morning and some of the birds jump right into it. Others don't.
Pre-rant – To those of you calling your bird's bird food holistic – stop it! You don't have to stop us from serving them the food but you can't call it "holistic". Food cannot be holistic. You can look at a bird's diet and environment "holistically"  you just can't serve them "holistic food" 'cause there ain't no such thing.
What is The True Lifespan of Parrots in Captivity? or How Nutritionally Balanced is Bird Chop?
What concerns me are those of you who have decided that you can supply your birds with all-natural homemade, concoctions and expect it will be nutritionally sound.
 This guy makes bird food!!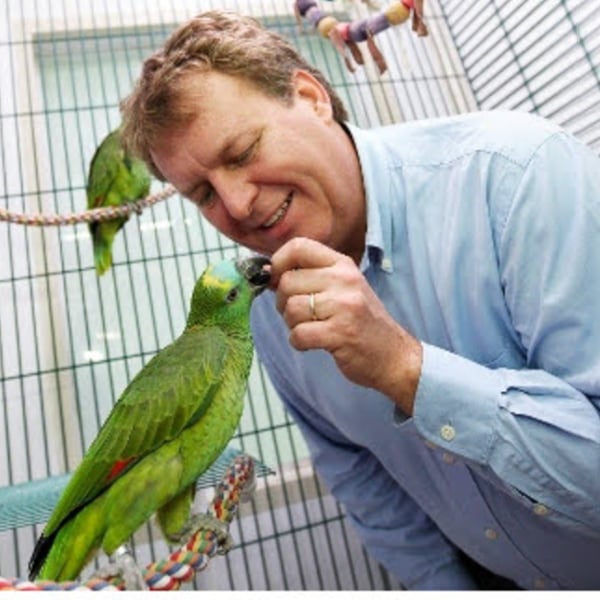 Mark Hagen has a Master's degree in agriculture and helps run this place by testing their food on hundreds of breeding pairs of parrots.
This guy makes bird food too.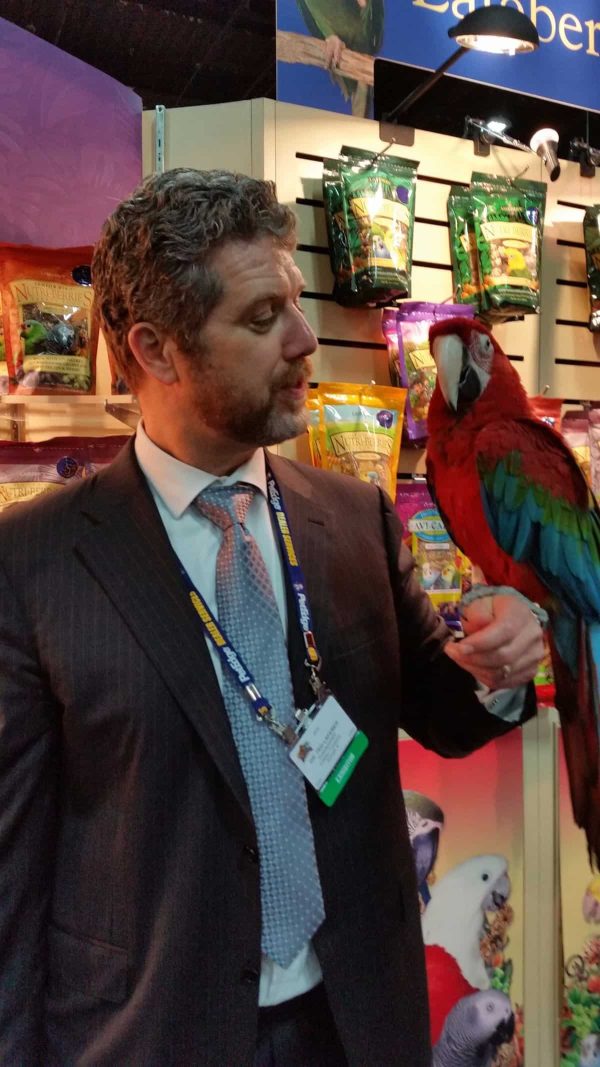 When I buy a bag of bird food from Mr. Hagen I see something like this on the back:
Ingredients: Ground corn, soybean meal, ground wheat, ground dehulled peanuts, ground brown rice, dehulled sunflower seed, canola oil (preserved with mixed tocopherols and rosemary extract), calcium carbonate, sugar, tomato powder, oat groats, ground flaxseed, alfalfa nutrient concentrate, L-lysine, yeast extract, DL-methionine, salt, choline chloride, carotene, biotin, vitamin E supplement, niacin, calcium L-ascorbyl-2-monophosphate, zinc oxide, manganous oxide, d-calcium pantothenate, vitamin B12 supplement, beta-carotene, copper sulfate, pyridoxine hydrochloride, thiamine mononitrate, inositol, folic acid, vitamin A supplement, calcium iodate, sodium selenite, vitamin D3 supplement.
Guaranteed Analysis: Crude protein 21.0% (min), Crude fat 11.0% (min), Crude fibre 3.5% (max), Moisture 9.0% (max), Salt 0.20% (min), Salt 0.30% (max), Calcium 1.1% (min), Phosphorus 0.7% (min), Vitamin A 6,500 IU/lb (min), Vitamin D3 225 IU/lb (min), Vitamin E 80 IU/lb (min), Vitamin K 0.9 mg/lb (min)
Manufactured in a facility that packages products containing nuts.
When I buy a tub of Pellet-berries from Dr. LaFeber I see a label on the back that looks something like this.
Pellet-Berries for Cockatiels Ingredients
Corn, soybean meal, red millet, wheat flour, malto-dextrin, hulled canary grass seed, cranberries, apricots, dates, glycerin, canola oil, corn syrup, corn oil, acacia gum, dicalcium phosphate, ground limestone, citric acid, soy protein hydrolyzed, salt, DL-methionine, choline chloride, carrageenan sea gel, vanillin, mixed tocopherols, calcium propionate, manganese proteinate, zinc proteinate, vitamin E supplement, ascorbic acid, niacin supplement, beta-carotene, copper proteinate, calcium pantothenate, biotin, riboflavin supplement, sodium selenite, menadione sodium bisulfite complex, pyridoxine hydrochloride, vitamin A acetate, thiamine mononitrate, vitamin B12 supplement, vitamin D3 supplement, folic acid.
Guaranteed Analysis for Cockatiel Food
Fiber (max) 4.5%

Crude Protein (min) 13.0%

Crude Fat (min) 5.0%

Omega-3 fatty acids (min) 0.25%

Omega-6 fatty acids (min) 2.20%

Moisture (max) 14.0%

Storage and Shelf Life
But many have decided "everybody is making these "chops" for their birds – it's all over the Internet – it looks yummy – because I have decided you should no longer fly – Because I decided I can make parts of my 2500 square ft. home just as much fun as the 35 square miles you would normally be flying in the wild – I'm going to the grocery store, find the most expensive vegetables I can buy, cut them up and put them in a big salad so you can eat about 1% of the chop I just made.
I'm curious about these recipes that you're reading, these chops that you're feeding to your birds – how are you determining…
1) your bird's nutritional needs. 
2) how to achieve those avian nutritional needs by chopping up a bunch of stuff you just brought home from the grocery store?
Let's say you happen to have a list of the top 27 vegetables that contain protein – okay, if you don't have that list – I'll loan you mine –
Artichokes (Globe or French) – Artichokes (Globe or French) – Arugula – Asparagus (Cooked) – Baby zucchini – Bamboo Shoots – Beat Greens (Cooked) – Broccoli – Broccoli Raab – Cauliflower – Collard Greens – Garden Crest – Kale – Lima Beans (Cooked) – Mange Tout (Edible-Podded Peas, cooked) – Mushrooms (White, cooked) – Mustard Greens – Pak-Choi (Chinese Cabbage, cooked)
Parsley –  Peas (Green) – Peas (Green) – Brussell Sprouts (Cooked) – Sprouted Beans, Peas & Lentils (Soybean Sprouts) – Squash (Hubbard, cooked)  – Sugar Snap Peas (Green, cooked) – Sweet Corn (Yellow)  – Watercress
You may notice the word "cooked" next to some of these vegetables which means when cooked you're enhancing the protein or the digestibility of the protein which is not being done in Chops – because they are – Fresh.
I'm not a betting man but I would bet with certainty that these (bagged bird food) numbers are not arbitrary numbers.
Guaranteed Analysis: Crude protein 21.0% (min), Crude fat 11.0% (min), Crude fiber 3.5% (max), Moisture 9.0% (max), Salt 0.20% (min), Salt 0.30% (max), Calcium 1.1% (min), Phosphorus 0.7% (min), Vitamin A 6,500 IU/lb (min), Vitamin D3 225 IU/lb (min), Vitamin E 80 IU/lb (min), Vitamin K 0.9 mg/lb (min)
These numbers are based on years of research. I understand that you have Google and don't have a need for years of research but can you tell me with the "Guaranteed Analysis" of your chop is?
I challenge you. Before you stop serving your bird that "store-bought bird food" if you haven't already done so take your bird to the vet and get a full blood panel done for about $300.
Then feed your bird "Chop" for 90 days or six months, whichever you're comfortable with and return to the veterinarian and get another full blood panel done for about $300 which will let you know whether or not you have seriously screwed up your bird's metabolism – or not.
I was diagnosed with Type II diabetes several years ago. The diagnosis comes from a full blood workup. The number you're looking at for that disease is the "A1C" Mine was 15, if you're "normal" you're A1C is below seven.
While reevaluating my entire lifestyle, especially nutrition I decided that after 10 years I would stop taking $150 a month worth of vitamins and supplements – knowing that I would be getting a full blood workup every three months for the next year I would have no doubt as to these highly touted nutrients, effectiveness.
Guess what – nothing changed. I was taking like 21 pills a day for 10 years. On the second follow-up visit workup – my Vitamin C had not plummeted – my creatine levels were the same in spite of no longer eating nasty creatine powder – I mean none of the stuff worked! All those supplements – all those years neither changed nor improved anything about my metabolism.
So my point is unless you are literally testing your bird's metabolism through blood workups – you have absolutely no idea as to what is going into your bird's system when feeding him or her a homemade chop.
Everyone who weighs their bird weekly – every two weeks – monthly – raise their hand. 
I thought so. Buying all the stuff from the grocery store that looks really healthy doesn't compensate for you not weighing yourself on a regular basis.
You're making 450 grams of this stuff (about a pound) for your 2 – 100 gram cockatiels – have you really thought this through?
Post rant 
Hey Mitch? Can't I just add supplements? 
Well maybe – the question becomes what is the delivery vehicle? Are you going to cover an 8-inch diameter dish with supplements once again we see 90% of it.
I certainly advocate Lafeber Avi-cakes which is an ideal supplement delivery system and a small insurance policy that your chop-only eating bird can live for the decades it's expected to.
All our birds also get Hagen Prime or Lafeber Avi-Era bird vitamins in their water 24/7.
Written by Mitch Rezman
Approved by Catherine Tobsing
About Author